Can I get a TGIF?! I am one happy lady that it is Friday! I love the weekends...but then again who doesn't?? There is just something about Friday, Saturday, and Sunday that makes everyone nicer....No wonder people name their babies after those days! I mean I have NEVER met someone named Monday.....have you?? Speaking of names...Ashley is a wonder name! She is also the wonderful host of Friday's letters and I am obsessed so...here they ARE!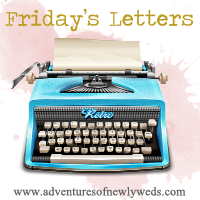 Dear BodyRock:
You are FREAKING amazing! I am so in love with your everything! The videos, the healthy meal ideas, the before and after pictures, and the motivational speeches. Hot Damn! If any of you fellow bloggers have never tried
BodyRock
you have to head over there and at least check them out...I promise you will not be disappointed!
Dear Shane:
I love you so darn much! Thank you for kicking my butt into gear on Tuesday and getting me to workout so that I wouldn't feel crappy all day! :) I love that you are so excited about the Olympics it makes me want to just kiss you! Also..your determination is so inspiring and I KNOW that you have so many wonderful things coming your way! You are a wonderful person and thank you for being so great to me. I love you.
Isn't he such a cutie??
Dear Nails:
I have decided the design I chose for you was my brain throwing up onto my hands. You all are out of control and a yellow, flowery, striped, bumblebee something mess! haha but if that is what my brain looks like when it can't make up a decision I will take it! Much better than a poop color or something! So I have decided to accept you for the next three weeks and rock you like I planned on getting you done exactly like that! :)
Dear Followers:
I love you all! Seriously! Thank you so much for commenting and reading my posts! I love reading all of your comments and replying to you! It honestly makes my day when I open my email and see the comments I have gotten from you! :) So thank you! Thank you! Thank you!
Dear Next Week:
You are going to be awesome! I am so stoked to get out of Cedar and chill with mine and Shane's awesome family! WOO! Also it's our 2 year anniversary on the 3rd! (Dating NOT married...obviously) haha
I hope you all have a great weekend! Enjoy the wonderful Olympics!